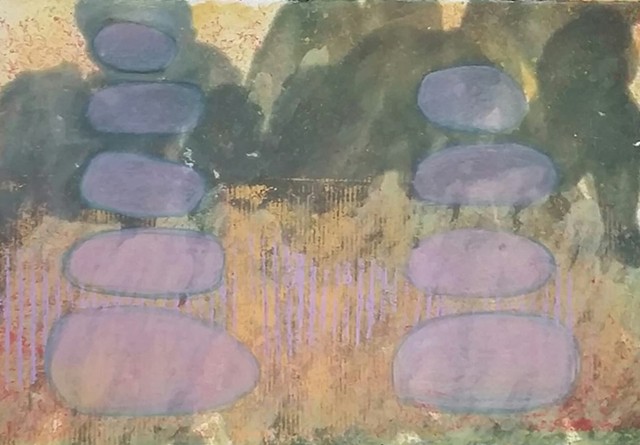 Creating art has always been a refuge for me: part mental and emotional purge and part mindlessness.
I have long been drawn to nature, and light, and more recently, to a search for peace. A few years ago, I made huge changes in my non-art life which began to bleed into my artwork. All aspects of my life were finally aligning and becoming a cohesive whole.
Intrinsia focuses on the spaces in between, and the magic of making something out of nothing. From this, the cairn series evolved. Now more than ever, each piece of artwork I create is a meditation.


Dawn was raised in rural northeastern Pennsylvania, which she happily left, to attend college at Pratt Institute in Brooklyn, NY. She received a BFA in Fine Arts in 1992, having majored in Fine Arts – Printmaking and minored in the History of Art. Feeling a bit jaded and world-weary with New York City, she relocated to Southern California. She continued drawing, painting, and photographing. Her "real job" eventually brought her to Chicago, where she stopped creating artwork and started creating a family. She has lived in Northwest Indiana for over twenty years with her husband and two sons.
In 2009, she began creating artwork again, which she fully credits with keeping her almost sane. She started with drawings. Within a year, she realized she needed to be back in the art scene, and hasn't looked back. She began painting, then mixed media work and, more recently, a return to her printmaking roots. She continues to dabble in different media.